Alpine's amazing new way to go BIG in your dash
Alpine's known for being on the cutting edge of stereo design, but for their iLX-F309 digital multimedia receiver, they actually borrowed an idea from some newer vehicles — an interface which "floats" on top of other dash controls. Only they went way bigger than anything else out there. The Alpine Halo9 boasts a monster 9″ floating capacitive touchscreen to give you plenty of information at a glance. And it's adjustable so you can keep climate controls accessible. Single-DIN (2″ tall) dash owners rejoice — this stereo's designed to go into most dash openings, even for many older cars. Add Alpine's trademark sonic capabilities and smartphone integration, and you've got a real humdinger on your hands.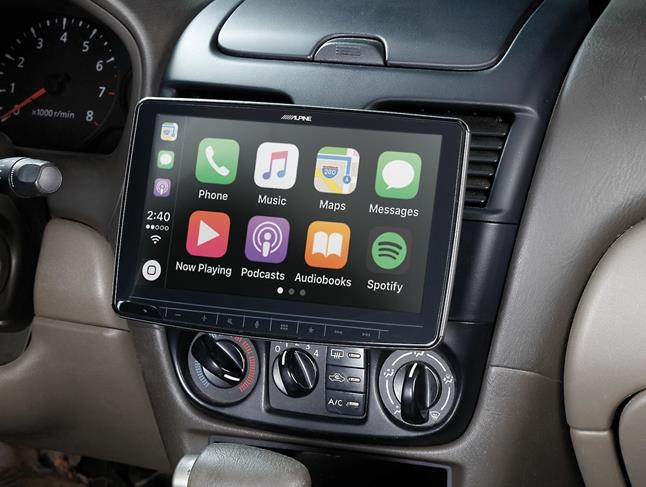 The Alpine iLX-F309 in a 2004 Nissan Sentra.
Works in most dashes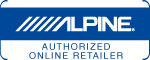 The Alpine Halo9 comes in two main pieces: a 2″ tall chassis and a 9″ touchscreen. The chassis fits in most single-DIN dash openings, and since there's no disc player, the mounting depth shouldn't be a major issue for most vehicles. Once you've mounted the chassis in your dash opening, you can choose from five available vertical mounting positions for the screen, giving you the flexibility to enjoy the radio without blocking essential dash climate controls. Your vents might be partially blocked, but Alpine designed the radio to function under typical in-vehicle temperatures.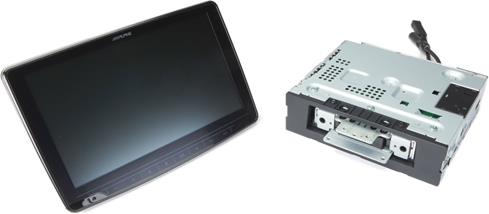 The Alpine Halo9's 9″ display (left) and chassis work together in most single-DIN dash openings — you can adjust both the height and viewing angle of the display to suit your needs.
Get the best view
Once you've determined the best vertical position for the display, you also have the option of changing the screen viewing angle up to 45 degrees forward or 20 degrees backward. This allows you to accommodate for angled dashes or just to get a better look at your iLX-F309's display, depending on its position in your dash. After you've chosen the best positions, four screws hold the display safely in place as you interact with it.
Just about everything you need
There's no disc player in the Alpine Halo9, but it does include several ways to enjoy your media. You can use the rear USB pigtail to attach your smartphone or a thumb drive with your favorite music or video files, or just get to your phone's audio quickly with the auxiliary input. If you've got an optional CD/DVD or Blu-Ray Disc™ player, there's a rear HDMi connection. Rear-view camera owners will appreciate the incuded camera input and distance guidance display. A GPS antenna enhances your phone's navigation functionality.
Built-in Bluetooth®
Alpine's been on the Bluetooth train for a long time, and the iLX-F309's no different. Use it to make or receive hands-free phone calls via your smartphone with the included microphone, or stream music from your phone with ease. You can also use the included microphone to activate voice commands for Apple CarPlay and Android Auto.
Apple CarPlay™
The Alpine Halo9 supports CarPlay —it integrates your iPhone® into the driving experience with a seamless interface, putting iPhone content at the driver's fingertips with minimal distraction. You'll enjoy easy access to your music library, your phone, messages, navigation, and many third party streaming music apps, too. Learn more at www.apple.com/ios/carplay. As an added bonus, you can access Siri Eyes Free functionality with a touch of the receiver's mic button, using your voice to place calls, select music, hear notification, add reminders — even compose and listen to text messages.
Android Auto™
If you're an Android fan, you'll love how Android Auto integrates the Android platform into your driving experience in a non-distracting way. You'll have voice control access to Google Maps, weather, music, your phone, text messages, plus easy access to many of your favorite apps. Get more info at www.android.com/auto.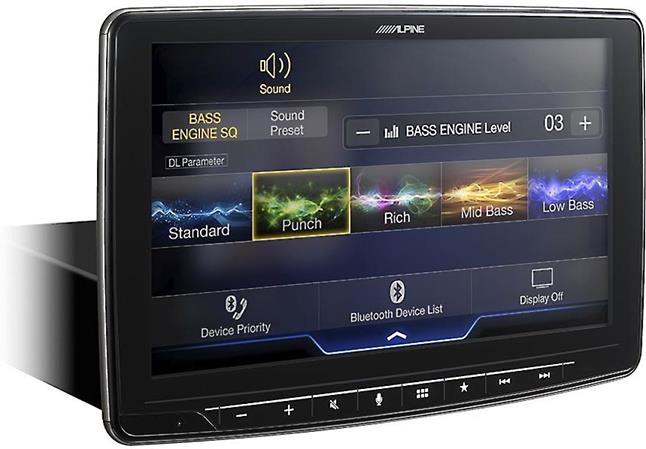 Save your favorites
Along the bottom of the iLX-F309's bezel you'll find some helpful buttons, including a dedicated microphone button to activate voice controls for CarPlay and Android Auto. You also get a "favorites" button with a star on it, which allows you to save your preferred audio sources, places, contacts, stations, and more so you can pull them up on the screen in a hurry without scrolling through several menus.

HD Radio™, Pandora® Internet radio, and more
The Alpine Halo9 comes ready to play with a plethora of entertainment options:
HD Radio reception: You'll enjoy crystal-clear sound quality from participating AM and FM stations, including FM that sounds almost as good as a CD. Plus, you'll see station and song info on the screen.
Pandora® Internet radio: Pandora lovers will love touchscreen control over their stations, including thumbs up and down, bookmarks, and station lists. Just plug your iPhone® into the USB port or use Bluetooth audio with your Android device.
iPhone and iPod® control: Browsing for your favorite songs is simple and concise, thanks to an intuitive touchscreen interface and the huge display. You can check out song title, artist info, and album art with a quick glance at the big screen.
Satellite radio compatibility: You can add SiriusXM programming to the receiver with an optional tuner and your paid subscription.
Sonic goodness
The iLX-F309's not only a pretty face, it also boasts plenty of ways to keep your ears happy. You can use its many fingertip-friendly controls to set the 9-band parametric EQ, time correction, Bass Engine SQ, and much more. And it works with lossless FLAC files to give you the full-resolution digital media experience you crave. Pair your smartphone with Alpine's TuneIt app installed with this stereo to get even deeper with the tweaks, save your favorite settings, and share them with other Alpine users online.
More options from Alpine
If you've tricked out your vehicle with add-ons, the optional Truck Accessory Controller enables simple system expansion, allowing touchscreen command of up to eight electrical devices like winches, LED lights, interior lights, suspension kits, and powered bed covers. You can customize the onscreen icons and button labels, so you'll be able to access your devices with ease.
iDatalink Maestro lets you keep your factory extras
This Alpine offers compatibility you won't find in many other aftermarket radios, thanks to the iDatalink Maestro module (not included). In a wide selection of vehicles, this module lets you keep factory features that you'd otherwise lose when you install a new radio. You'll also be able to check out engine performance data and other vehicle data on the Alpine's screen. Once you've identified your vehicle, you'll see the iDatalink module offered on the way to your Shopping Cart if it's compatible.
Bluetooth note: Use of this receiver's Bluetooth features will depend upon your phone's Bluetooth capabilities. Learn more in our article explaining Bluetooth profiles.
Product highlights:
General Features:
digital media receiver with AM/FM tuner (does not play CDs)
9″ capacitive touchscreen with adjustable vertical mounting positions and viewing angles
fits single-DIN dash openings
Bluetooth hands-free calling and audio streaming
HD Radio tuner built-in
Smartphone Features (see Details for info on compatibility with specific smartphones and apps):
Apple CarPlay compatible
Android Auto compatible
built-in iPod, iPhone, and iPad control
playback and control of music files on compatible Android devices
Pandora and Spotify control with iPhone and Android
Audio/video Features:
plays MP3, WMA, AAC, and FLAC music files (see Details tab for full capabilities)
plays AVI and MPEG4 video files
9-band parametric equalizer with time correction
high- and low-pass filters
Bass Engine SQ
MediaXpander HD
compatible with Alpine's TuneIt smartphone app
Expandability:
works with SiriusXM SXV300 tuner—supports Tune Mix, Traffic & Weather Now, and Sports Flash features
compatible with optional Truck Accessory Controller
inputs: rear USB port, HDMI input, auxiliary input, rear-view camera harness
outputs: 6-channel preamp outputs (4-volt front, rear, subwoofer)
Other Information:
built-in internal amp (18 watts RMS CTA-2006 x 4 channels)
compatible with most factory steering wheel audio controls (adapter required)
CTA-2006 compliant
compatible with iDatalink Maestro

retains factory features in a wide selection of vehicles
displays engine performance data on touchscreen

warranty: 1 year
compatible with SiriusXM satellite radio tuner
MFR # ILX-F309